Resources for Your Manager Toolkit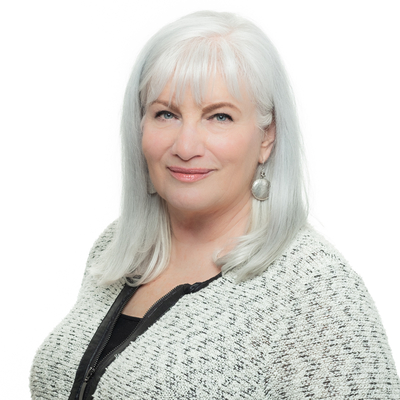 August 4, 2020
Whatever your passion is for activities outside of work—cooking, gardening or sports, for example—you probably have some favorite utensils and an established framework for accomplishing them.
Just as is the case with leisure activities, leaders need effective tools to promote strategic thinking, creativity and problem-solving. Here are some of my executive survival kit favorites. It never mattered what type of work we were doing; these are the trusted tools I've used throughout my career. They are applicable and adaptable, and they always improved my understanding.

Spider Diagrams or Radar Charts
When I was leading a human resources team at UW-Madison, I often used spider charts help visualize gaps. Spider diagrams are excellent for this. They create an overview and can help distill complex topics into a single memorable image. This type of chart has multiple levels of use. It can be used to measure quantitative items such as where sales are and where they should be, but it can be useful in finding qualitative information, too. Here's an example: We used a spider chart to help gauge HR service levels via a survey. We asked questions about eight aspects of service and how employees thought we performed in each on a scale of 1 to 5. We also asked how they thought the service should be performed on a scale of 1 to 5. The spaces let us know where the biggest gaps in expectations versus service were and where we needed to focus our efforts.
At an executive level, you might be charged with finding out what motivates your team or how they view something. If you ask the right questions, plot the replies and look for gaps, the tool organically works to help you. A spider diagram is one of my favorite tools because it opens my eyes to brewing trouble, surfaces hot issues and helps me know where to focus efforts to meet and exceed expectations.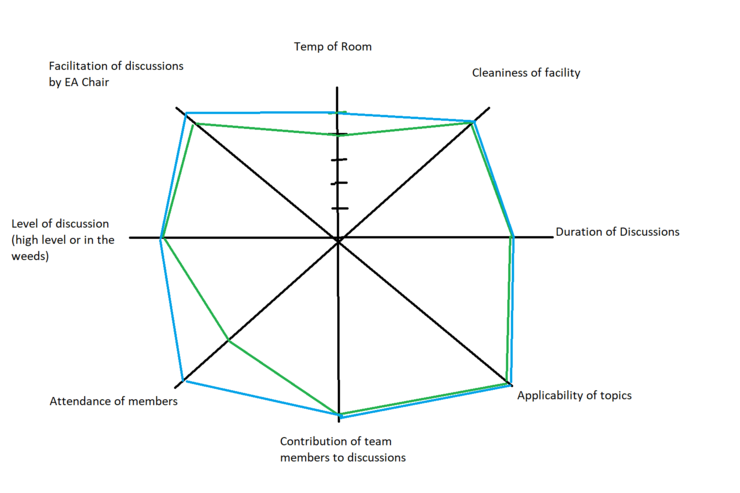 This spider chart is a good example of how we might assess making an EA group more meaningful to each member. In this example, we could have better member attendance, and better temperature control in the room (and some effort focused on the EA Chair's facilitation!).


Decision Matrix
Try this when you need to make a tough choice between which product better meets a customer need. Here's my real-life example: The executive team at an organization I worked for needed to meet the demand of customers to have an investment component to their life insurance plan. There are many ways to do that. We considered adding a new product, a universal life insurance plan, to our whole life plan with a premium investment component. To help us decide, we wrote the customer criteria down the leftmost column of the matrix and established a weight for each criteria. Next, we entered the benefits of adding a new product across the top of the matrix versus living with our existing product. Then we filled in the matrix and lastly, totaled the weighted scores. I like to leave a far-right column for comments/notes. Below is simple example illustrating decision matrix.

Options

Notes

Steak

Italian

Mexican

Sushi

Criteria

Weight

Cost

5

Accommodations

4

Wait Time

4

Team Preference

3

Distance

2

TOTAL
Responsibility Map
This tool came in handy during merger/acquisition/downsizing efforts. It's s a great way to assign roles and responsibilities for each part of a project task, thus eliminating confusion and always knowing "who's doing what?" List the tasks down the left column, and the people involved across the top row. When doing this, note in each column who has primary responsibility (owner), who needs to have input, and who needs to be kept informed. If you employ the full-blown RACI table version (responsible, accountable, consulted, informed) you'll have a useful communications blueprint started.

MERGER X

President

Chief Actuary

CFO

VP IS

VP HR

VP Marketing

VP Sales

Product synergy evaluation

Δ

√

Δ

Δ

0

Δ

Sales team strengths/weakness evaluation

Δ

Δ

0

√

IT systems evaluation

Δ

0

Δ

√

Financial strength Evaluation

Δ

0

√

Market segments/
overlaps

Δ

√

0
√ Primary responsibility; 0 Secondary responsibility; Δ Keep informed

Any leader at any size company can use these and other tools to find the best possible ideas and outcomes. All this tool talk might seem basic but knowing how and when to use a tool establishes a digestible process for solving problems and gives everyone in the group a common language to use as they think about issues and opportunities.

There are quality tools for process improvement (https://asq.org/quality-resources/seven-basic-quality-tools), tools to improve your creativity during brainstorming (Bryan Mattimore, https://www.youtube.com/watch?v=7MGBXQMvscY), and even more tools to help you look at a situation from different perspective (http://www.debonogroup.com/six_thinking_hats.php). No matter which you choose, keep learning about tools and how they can improve your processes.

A few more to experiment with include Pareto charting, affinity and fishbone diagramming and for honing consensus-building skills, the Crawford Slip Method.

I think you'll see even though some of these tools have been around for years, they remain effective. Executive leaders know this. When you are surrounded by trustworthy colleagues, keep trying new things. Find the tools that work for your organization to give your management team and employees a common language for problem-solving and strategic discussions. It will be exciting and will keep your whole group learning, developing and growing.
About the Author
After benefiting from the insights and perspectives of an Executive Agenda group for more than 14 years, Susan Ellmaurer now serves as the Group Chair (Executive Mentor) for one EA group (EA 33) in the Madison area. Her diverse background in quality, human resources, IT, financial services, sales and sales management at organizations including the University of Wisconsin, Catholic Knights and Honeywell makes her a fitting mentor for talented, goal-oriented individuals who want to advance their careers. Her areas of specialty include communications, process improvement, change management, team building, quality improvement, mentoring and coaching.